Welcome to Cat Care Clinic of the Nyacks
Your Veterinarian in Nyack,NY
Call us at (845) 353-6369
Pet Emergency? Call us right away at (845) 353-6369!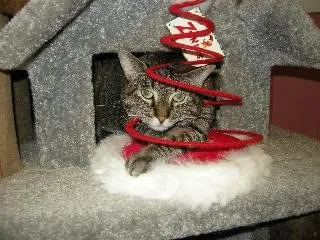 So, the Cat Care Clinic of the Nyacks needs their own web site and so we now have one.
Short and sweet.
Our own "Sid" in another classic pose!
Reach us at (845)353-6369(MEOW) to set appointments, grooming, housecalls, etc.
In Aug. 2016, we have made renovations to our clinic. We now have a renovated reception area and are excited for you to see the changes we made.
The Cat Care Clinic was a project of love. When Dr. Maureen Saunders graduated Vet school, she began working for her father at the Spring Valley Animal Hospital. However, like any daughter, she needed to broaden her horizons and began working part-time at Cat's Exclusive in Ridgefield, NJ. Realizing the special relationship she had with cats, along with all other small animals, she elected to go out on her own and open the Cat Care Clinic in Rockland County. Nyack certainly was an ideal location for a small, intimate practice where "everyone knows your name".
2015 has now been 25 years and Dr. Saunders enthusiasm has never decreased. Please stop by and say hello. See what animals we have for adoption. Visit us also with all your other pets up in Monsey at Spring Valley Animal Hospital 356-8616. (Shhhh-occasionally you will see a non-cat at our Cat Clinic but don't say anything!)
You can reach us at (845) 353-6369 and by fax at (845) 353-5343. We are looking forward to hearing from you. You can also become a fan on our facebook page Cat Care Clinic of the Nyacks.
If you are not familiar with Cat Care Clinic of the Nyacks and your first contact with us is online: We would be pleased to hear from you! Please let us know what your needs and questions are, we will be more than happy to help.
Dr. Saunders' interest in Veterinary medicine began from birth. Her father, Dr. Burt opened Spring Valley Animal Hospital in 1958 and Dr. Mo started working in the animal hospital from the time she could walk! She graduated from Cornell Veterinary School in 1987 and returned to her home after graduating.
If you live in the surrounding area and need a trusted veterinarian to care for your pets – look no further. Dr. Maureen Saunders is a licensed NY veterinarian, treating all types of pets. Your pets' health and well-being are very important to us, and we take every possible measure to give your animals the care they deserve.
Cat Care Clinic of the Nyacks is a full-service animal hospital and welcomes both emergency treatment cases as well as pet patients in need of routine medical, surgical, and dental care. Dr. Maureen Saunders has years of experience treating serious conditions and offering regular pet wellness care. Beyond first-rate pet care, we make our clinic comfortable, kid-friendly, and calm, so your pet can relax in the waiting room and look forward to meeting our Cat Clinic.
We are happy to offer a number of resources that enable you to learn about how to take better care of your pets. Please feel free to browse our site, particularly the informational articles. The best veterinary care for animals is ongoing nutrition and problem prevention, so becoming knowledgeable about preventative pet care is essential to the ongoing success of your animal's health. If you have any questions, call (845) 353-6369 or contact us and we'll promptly get back to you. Our veterinarian office is very easy to get to - just check out the map below! We also welcome you to subscribe to our newsletter, which is created especially for pet owners.
At Cat Care Clinic of the Nyacks, we treat your pets like the valued family members they are.
Dr. Maureen Saunders
| Cat Care Clinic of the Nyacks | (845) 353-6369
127 S Broadway
Nyack, NY 10960